Club Mistral SUP Division Andalusia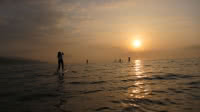 Choose from a huge variety of different boards and paddles, either you come to us or we deliver the board right to the reception of your hotel on the day you want it, and pick it up in the evening again.
Choose from a vast excursion program covering Sunrise or Sunset Tours as well as River Paddling or Full Moon Sessions.
Our specially developed Training Programms help you to get in shape and add some fun and great atmosphere to your workout. No matter if you start to exercise or are already an experienced athlete - there´s a program for all of you.
For all the Yoga Lovers amongst you, we offer SUP Yoga trainings which will intensify your Yoga Routines and add an entirely different angle to the whole session.
If you haven´t tried SUP, this is your chance to do so and not miss out on the biggest trend in watersports today.