Wind & Water Experience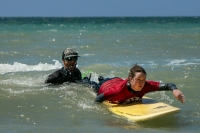 Our windsurfing center Wind & Water Experience is located in Tarifa, the Mecca of Europe for Kitesurf & Windsurf famous for most of the time being windy, its location at the southernmost point of Spain means dry and sunny days from May to October. Wind & Water Experience was born out of pure passion for sport & nature. We love wind, water, waves, people & fun.
Our aim is to give each and every person that joins us the best possible experience while respecting mother nature, our environment, safety and everybody around us. While introducing you to the sports we love, in a place we love. And for those like us who have already build up a passion for these sports to advance and practice their skills in a safe and fun way.
Whether you're coming alone or with your family to Tarfia, a beginner or more advanced Kite Surfer, Windsurfer, Surfer , Stand Up Paddle Boarder or if Yoga is your love come Join Us at Wind & Water Experience.